It's about time venture embraced innovation to improve returns & drive change (July newsletter – Investors)
There are two broad groups of investors – those who believe venture financing can be made more efficient with technology and those who vehemently believe otherwise!
For all the believers in the power of technology to improve the venture financing process, very few can can be Yohei Nakajima who builds out mini-bots to automate repetitive tasks for his investing.
The inefficiencies in venture financing are well documented – from the "noise" in deal sourcing to accurately managing and monitoring existing portfolio. Over the past 2+ years, we have tackled these with a unique approach – rethinking processes from both startups' and investors' POV.
Read on for more details on our approach and how you can simplify your processes with Caena
Investors have to sift through a lot of "noise" to find quality deals
 Founders just don't know…
The main problem founders face is knowledge gap- they just don't know. There's a perception that funding = venture capital. Also, because of a lack of transparency in general, founders resort to a "spray and pray" approach as they've been told it's a game of numbers. We are helping founders with:
Caena Academy: educating them on various funding options and helping them identify the most appropriate options besides VC
Investor prospecting tool recommends investors based on a match between startup and investment thesis
Investors need deal filtering tools…
What if there's a way to simultaneously cast the net wide and filter for relevance without ramping up expensive manpower?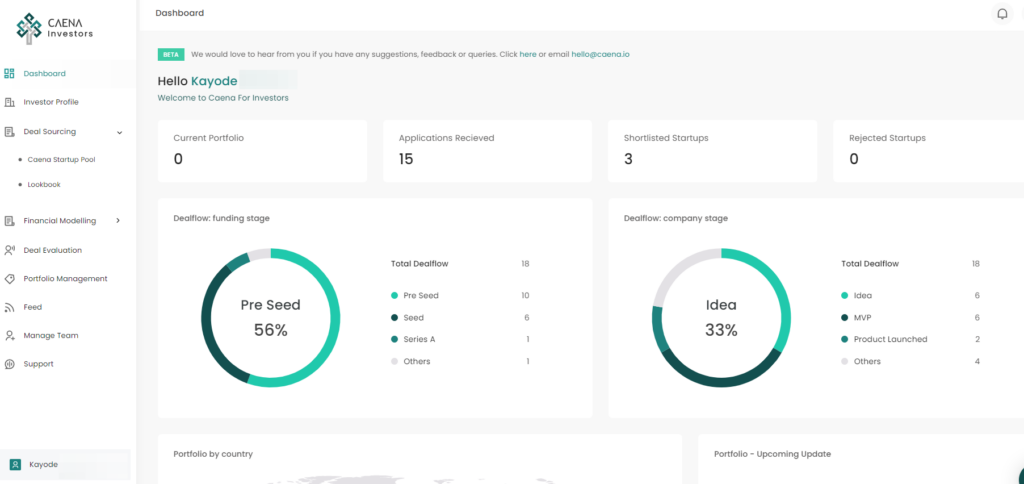 We have taken up this challenge by building deal sourcing and filtering tools enables investors to set their investment thesis, create a unique application link and consolidate all inbound onto a dashboard. Inbound deals are auto-categorised based on fit with your thesis.
Proper evaluation & due diligence hard to pull off
 Founders struggle with financial analysis
Conducting unit economics analysis and building financial projections is a tough task for founders. Investors today are however more likely to require financial analysis even at (pre) seed compared to 2 years ago.
~80% of founders cannot put together a decent model using Excel and have to pay thousands of dollars to consultants who end up creating overly complex monstrosities.
With Caena's financial modelling tools, startups can generate financial models quickly and easily. By DIYing financial models, founders better understand assumptions and unit economics. They can then more easily explain these to investors.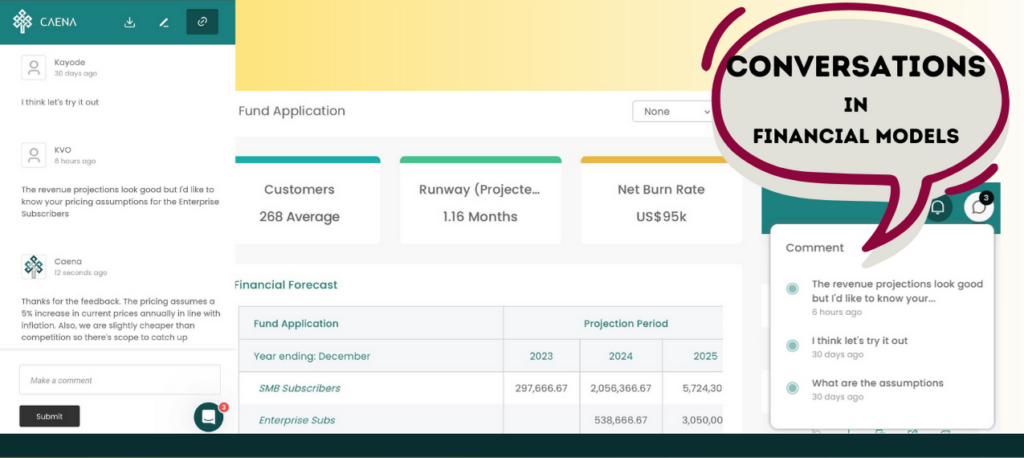 Streamlined financial modelling process saves Investors time & money
A web-based, simpler approach to financial models rather than traditional spreadsheets benefits investors as much as founders
reduces the need for expensively trained analysts trying to make sense of complexity
2-way comments and notes enables a more collaborative approach to understanding assumptions behind the output
huge time savings by eliminating the need to audit formulas for broken or misleading calculations
Ongoing portfolio management is a nightmare
 Are founders undisciplined or investor relations is just tough?
Some founders will always find the time to always update their investors on their current numbers, challenges and opportunities. That said, founders face genuine barriers to creating efficient investor updates.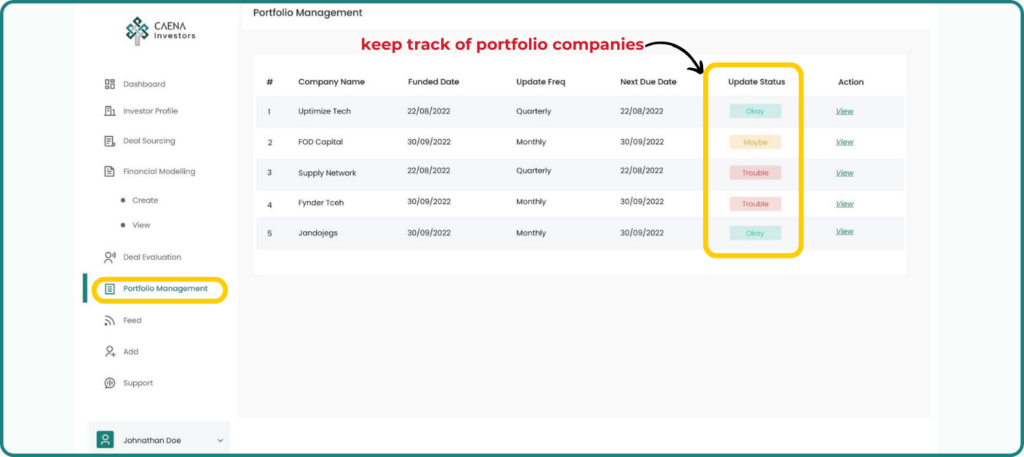 A better way for investors to managing existing portfolio
Some portfolio companies will send updates, many will not. Also, these updates come in wildly varying formats and get buried deep in your emails clients.
We are working on a solution that meets the needs of both founders and investors, get in touch to know more
 Off the beaten path
Expand your deal flow outside common channels and networks
Investing beyond the "hot deals" has several benefits from lower entry valuations to boosting diversity and inclusion.
~1,000 out of the 7,000 founders on our platform are raising and sharing information with investors. Most of these are underserved founders in the US and Europe or solving pain points in frontier markets.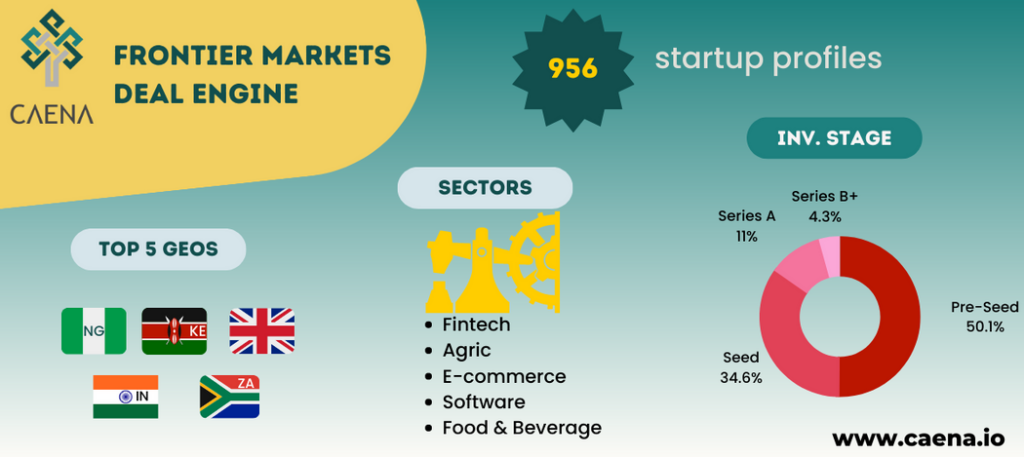 Explore these opportunities by creating a free investor account on Caena or getting in touch with me. I also send a vetted, curated list from time to time.
Thank you for getting this far, if you know any investors / LPs that will find this useful, please forward to them.