Caena Launches 'Who Wants to Be a Unicorn', a Fundraising Game for Entrepreneurs and Investors
We are excited to be launching Who Wants to Be a Unicorn, a game we've been working on for the past few months on Product Hunt today.
Venture Capital as a funding source is suitable for only a tiny percentage of startup founders – the very few leading startups with the demonstrable potential to be rocket ships within a short period. Unfortunately, the majority of startup founders don't know this and waste valuable time pursuing venture capital when they're better served by other sources of funding or bootstrapping.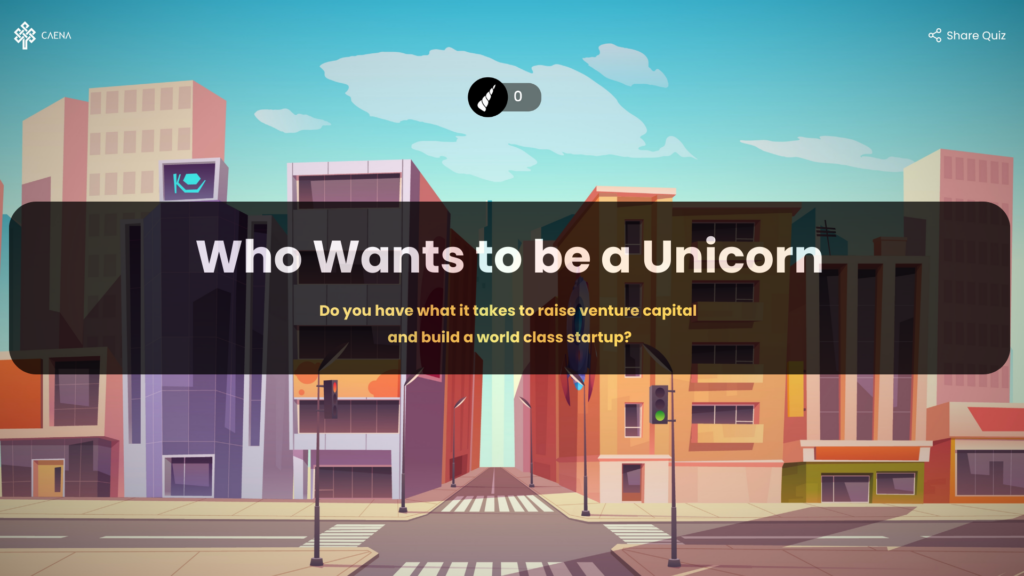 Who Wants to be a Unicorn offers an insight into the world of venture capital in an entertaining format. The game peels back the veil over what is a frustrating and often surprising black box especially to founders who are outside the closed investor networks. With an immersive learning experience that mirrors the complexities of the venture capital (VC) process, and realistic VC scenarios, players get to experience the decision making process involved in venture financing.
The ultimate reward of playing Who Wants to be a Unicorn is to secure "funding" from a VC. To achieve this goal, players will need to jump through several hoops and only very, very few will succeed. This mimics the typical real life venture capital process, where VCs typically fund just 1 out of 100 founders they encounter. The journey begins with preliminary screening and advances to meetings with analysts. Successful 'founders' earn the opportunity to present to the investment committee, where the stakes intensify. At this stage, founders must navigate 'red flag' questions, facing automatic rejection if they don't meet the minimum requirements.
This unique blend of immersive gameplay and education makes "Who Wants to be a Unicorn" an invaluable tool for anyone aspiring to grasp the world of venture capital. The game is completely free to play, making it accessible to everyone.
This is a first, beta and free version of the Unicorn Game. We would love you to try it out and give us your feedback and comments. This game can go a long way in shining light on how venture capital can better serve founders, investors and their LPs
Our Product Hunt launch is on till 8am Uk time on 21st September, please vote and support us. See link below.